Services
Whether you are a business, employee, student, have a home office or have to go all the way to the supermarket to just purchase a few items, free up your valuable time and come shop at Cashel Convenience Centre! Our store also sells the most common groceries that are purchased by everyone such as milk, bread, snacks, lollies, fizzy drinks, prepay mobile top-up and calling cards.
The major prepay and calling cards we sell include:
GLOBUG
SIM cards
Vodafone
Spark
2 Degrees
Skinny
V8
SuperBuzz
Yabba
Daybreak
easycall
Go Talk
Happy Calling
Kiwicall
SuperSaver
and more
Espresso yourself for hot coffee, hot chocolate or tea at a reasonable price for each. Crispy hot Fish, Chips and Chicken.
Fruits and vegetables, chilli, pineapple, chicken, duck, beef, exotic food and ice cream.
Stationery and gifts for all occasions, for office and home use, including gifts and birthday cards.
One stop shop for all business and support services, including accommodation for casual, short and long term.
Services including photocopying, laminating, binding and, digital and passport photos.
You may make your local and international calls here.
We can do typing, dictation, letter writing, including your Curriculum Vitae (CV).
The one stop centre for all your housing needs for casual, short and long term for all walks of life including students, working professionals and people on holiday.
We cut a full range of house and car keys, 7 days a week, for your convenience anytime from Mondays to Sundays till 9 pm.*
* This time may not apply, and we may close earlier in the winter season.
If you need things that could not be found anywhere, we have the resources to get them for you locally as well as overseas including buyers agent and/or manufactures' inspection agent.
The building in which the centre is located, is unique that it has paintings and unique arts that will inspire your souls.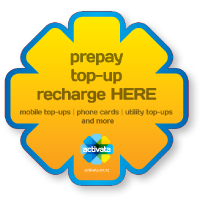 Prepaid mobile top-ups, phone cards and more available at Community Convenience Centre.